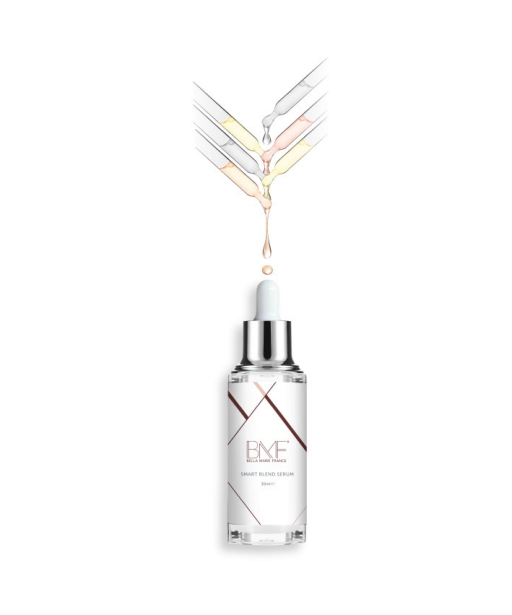 *Images shown for illustration purposes only.
Smart-Blend Serum (Limited Time Only)
This product is no longer in stock
Warning: Last items in stock!
Availability date:
Your genes define your smart-blend serum. A revolutionary discovery to youthful skin. We are able to identify your skin's genetic pre-dispositions and zero-in on these concerns with the right solution, all conveniently available in a bottle. Each ingredient used in the unique blend is clinically proven to address traits found in your DNA for a formula that is only yours.
Antioxidant Serum:
The human body produces antioxidants, enzymes to protect the skin from free radical damage. However, toxins and environmental aggressors aggravate the condition.
A serum that reduces irritation and inflammation & protects skin from free radicals impact from oxidizing agents. It also improves skin uniformity and radiance. Counteracts the oxidative stress from UV and external pollution.
Indication: Dull, lackluster & tired skin
Collagen Serum:
An increased collagen breakdown process due to environmental factors & genetic variations results in lower collagen levels, premature wrinkles and skin imperfections.
This serum accelerates cell renewal and increase elasticity for firmer skin. It also enhanced radiance & hydration and provides antioxidant protection.
Indication: Wrinkles, dehydrated & sagging skin
Detoxify Serum:
Genetic predisposition towards decreased skin detoxification capacity, where it is not able to eliminate these harmful agents as readily which results in signs of premature aging.
A serum that counteract oxidative stress from UV and surrounding pollution. It helps to strengthen the skin barrier. This serum also consists of anti-pollution properties and detoxify & anti-inflammatory properties.
Indication: Blemished , congested skin & tired skin
Dryness Serum:
The impairments in the skin's hydration capacity advances aging symptoms, also chronic sun exposure leads to skin dryness.
This serum provides both surface & in depth hydration. It protects against UV & moisture loss and also restores the skin's water holding capacity.
Indication: Dry, rough texture & fine lines
Glycation Serum:
Skin glycation takes place when the body's ability to maintain normal glucose levels and energy metabolism is impaired, causing inflammation, poor healing, loss of elasticity, and accelerated aging challenges of wrinkles, dryness and skin laxity.
A serum that can inhibits glycation reaction and smoothens the skin texture. It also improves skin firmness and radiance.
Indication: Sagging, skin discoloration & deep crevices
Photo Aging Serum:
Ultraviolet (UV) radiation is a major contributor to premature aging, namely pigmentation, sagging skin, broken capillaries, freckles, age spots, lentigines & wrinkles around the eyes and mouth.
This serum prevents the visible signs of photo aging (wrinkles, dryness) and protects cell structures from UV damage. It also reinforces skin integrity and help in hydrates the skin
Indication: Wrinkled , dry skin & lack of firmness
Spots Serum:
Sun spots or pigmented spots are characterised by an area of skin darkening, caused by the overproduction melanin.
A serum that lightens age spot by inhibiting the effect on tyrosinase activity and slow down the formation of melanin. It is rich in antioxidants, trace elements and minerals.
Indication: Pigmentation, age spot & sun spot
Youthfulness Serum:
Youth enhanced preservation properties for a clear and bright complexion.
This serum helps to induce light reflecting softness & smoothness on skin. It also helps to restore the epidermis integrity and stimulates collagen synthesis. It prolongs period of hydrated skin.
Indication: Premature aging, Uneven skin tone, Tired/dull surface
Release 5-6 drops onto the palm and smooth the serum over face and neck in rolling motions and tap gently till fully absorbed.
Product customization
* required fields